Creating a new cable and cable manufacturer in solidworks electrical and customizing the cable according to our specification.
Creation of the cable is few steps to follow once the cable is created we can able to add it to the harness.
The cable is used to connect the components. There will be default library for few manufacturer cables. To add a few cable we need follow the below mentioned steps.
How to create Electrical Cable
In library there will be an option cable reference manager
Using this cable reference manger new table will be opened
Electrical cable reference manager
A cable reference manager will be opened in which we will create a new reference and classification manager i.e  standards. Ther classification manager is like a folder in which it can filtered with different standards.
Creation of new cable properties
Once new reference is pressed.
 Cable reference properties tab will be opened. We have to provide our specification in which it includes dia, Sq.mm, colour, cores, core dia these are the important things needed to be updated in the property tab
Cable core properties
Cable core properties will be present in the same tab as the 3 rd option at the top.
There we have to add the number of cores we need inside the cable.
Also we have to provide dia of the core we need and also control have to be given wheather is it a misselleneous or power or neutral.
And colours of the cores also given in this tab.
Assigning cable between components
Once the new cable is created we have place the cable and assign it to the components which cable is necessary.
It will be done in schematic page.
After placing the components and wires are drawn and  cable can be  created
Associated cable cores
Once previous pints are done .
In associated cable cores tab we have to add the cable using new cable option.
And then we have to select the cable we have created in the library manager.
And we have to select the four cores and we have to select four wires at the bottom.
And after selecting all these we have associate it using associate cable cores option present at the top and also higlighted at the bottom image.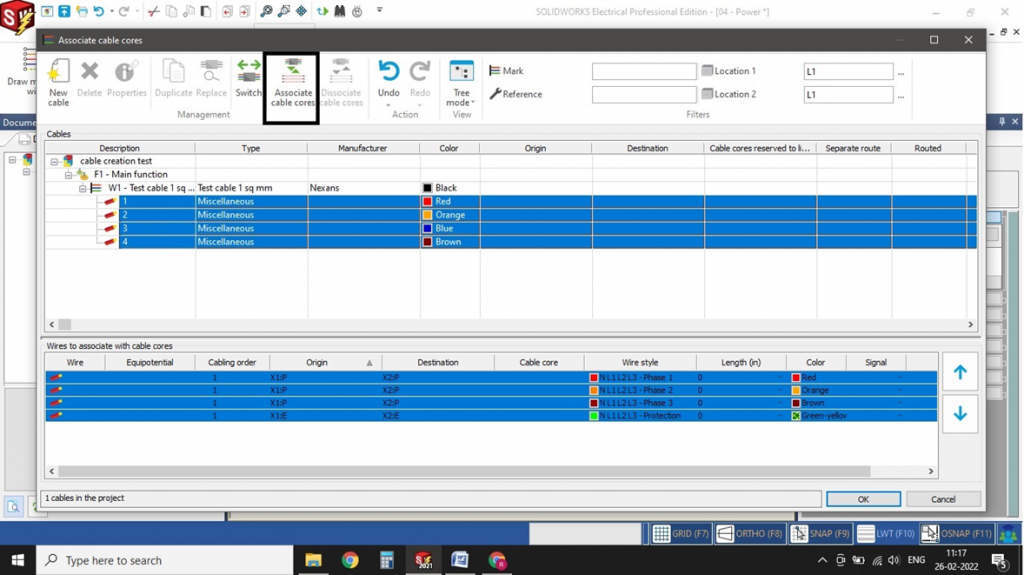 Once it is associated it will be turned into green and origin and destination is also updated.
And also cable is added to wires with the cable mark is shown between the components.