SOLIDWORKS SIMULATION
Finite Element Analysis (FEA) Software
What is SOLIDWORKS SIMULATION and why is it needed?
SOLIDWORKS Simulation is superb software helping to validate designs. With a built-in Finite Element Analysis (FEA) program, SOLIDWORKS SIMULATION provides an easy-to-use interface and empowers engineers, designers, and other users to test their designs. Since NAFEMS validated FEA solvers are used, any type of static or dynamic analysis, stress tests, etc. can be undertaken and the results are reliable. This in turn helps reduce prototype cost and material wastage, shortens design cycle time, eliminates errors/risks of failure, and helps widen the product base of a company without heavy investment in development.
Reliability and Accuracy
NAFEMS (formerly the National Agency for Finite Element Methods and Standards) is an independent authority and trusted source for communicating engineering simulation knowledge. Their aim is to facilitate an unbiased collaboration between all stakeholders like academia, industry; governments, etc., and they help to validate simulation studies against on-ground studies. More details can be found in https://www.nafems.org/
When you choose SOLIDWORKS Simulation, you are guaranteed reliability because the study types available have been validated by NAFEMS. Setup directions, comparative benchmark models, and much more are included in the software for a comprehensive analysis and outcomes comparison. Many projects have used SOLIDWORKS Simulation successfully before execution and this is another testament to the product robustness.
SOLIDWORKS
SIMULATION
Intuitive Tools for
Optimized Testing
Linear Static Analysis
Design changes can be tracked automatically. Iterate designs based on different parameters (Stress, strain, etc.).Bring considerations of Factor of Safety (FOS) into account
Motion (Kinematic) Analysis
Accurately recreate assemblies and mechanical movement. Achieve holistic idea of reaction forces, positions, etc. Users can define constraints in assemblies and mechanical part combinations
Fatigue Analysis
Simulate for fatigue failure using different load simulations.Various scenarios and combinations like cyclic loads, varying loads, etc.Understand product life-span and design limitations
Frequency Analysis (Modal Analysis)
Used for parts and assemblies present in vibrating environments or subject to vibration inputs.Deliver designs that eliminate 'singing' and 'frequency-related failure.Helps determine the modal shape and natural frequencies of parts and assemblies.
Thermal Analysis
Simulate analysis for conduction, convection, and radiation in different combinations.Help understand the relationship between thermal conditions, stress, etc.Helps in understanding different probable thermal analysis scenarios like transient heat etc.
Topology Optimization
Software auto-generates ideal shape based on specified conditions.Saves time and effort with design, validation, and prototyping.Only bounding conditions need to be specified.
Parametric Optimization
Flexible design optimization based on different parameters like weight, strength etc.Even manufacturing cost can be factored in as a parameter for optimization! Easy to match product variables and design constraints to arrive at an ideal solution.
Buckling Analysis
Simulate how load-bearing structures will perform against different compressive forces.Arrive at a reliable Factor of Safety (FIS) figure.Optimize easily as per custom requirements.
Drop Test
Undertake drop impact test for critical components and assemblies.Simulations can be run based on various factors and combinations like nature of impact surface, height of drop, etc.Easy to use and can undertake multiple simulations using different parameters and combinations.
Nonlinear Analysis
Required in cases where linear analysis will not deliver accurate results due to material nature.Advanced models available for analysis of designs using non-linear materials.Some example scenarios of use include dynamic loads, component deformations, metals working beyond the yield point, materials like plastics, rubber, etc which are non-linear by nature.
Composite Analysis
Specifically used in the cases of materials like carbon fibre.Analyze different layers individually to find optimum layup and maximum performance. Validate the failure cases and factor of safety against Tsai-Wu and Tsai-Hill failure indexes.
Dynamic Analysis
Linear and non-linear models of dynamic analysis can be used.Helps validate safety and performance at each step in the design.Determine natural modes of vibration, perform random vibration of components and assemblies, among other tests.
FREQUENTLY ASKED QUESTIONS
Do I need an advanced engineering degree to use SOLIDWORKS Simulation?
SOLIDWORKS Simulation functions as an add-in for SOLIDWORKS CAD. The workflow and commands closely mirror that of the SOLIDWORKS design process, so most users find that learning SOLIDWORKS Simulation is a fairly intuitive process. With that said, the results that SOLIDWORKS Simulation provides still need to be interpreted and understood by someone with the knowledge of material properties and engineering principles in order to make good design decisions.
As with all SOLIDWORKS tools, GoEngineer offers in-person and online training for all packages of SOLIDWORKS Simulation.
Can multiple employees share a SOLIDWORKS Simulation license?
Yes. Just like SOLIDWORKS CAD, SOLIDWORKS Simulation is available as a standalone license and a shared network license.
What version of SOLIDWORKS do I need to run SOLIDWORKS Simulation?
All tiers of SOLIDWORKS Simulation can be used with all tiers of SOLIDWORKS CAD. Because SOLIDWORKS Simulation is an add-in for SOLIDWORKS CAD, Simulation will function as whichever version of SOLIDWORKS CAD is utilized.
Example: If you are running SOLIDWORKS 2019, then SOLIDWORKS Simulation will also have to be 2019.
If I need more capability, can I upgrade my Simulation license?
Yes. As with all SOLIDWORKS tools that have tiers, there are upgrade paths available when you need to add functionality.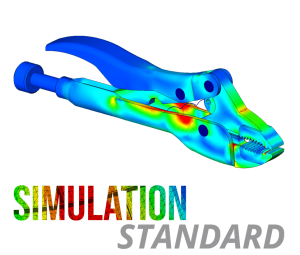 SOLIDWORKS Simulation Standard allows users to use connections such as bolts and pins to stress test their assemblies, simulate realistic assembly motion, and calculate joint forces.
SOLIDWORKS Simulation Professional offers a comprehensive toolset for improved assembly simulation. Functionality includes calculation of modal vibration, transient thermal temperature loading, DoE and topology optimization, and more!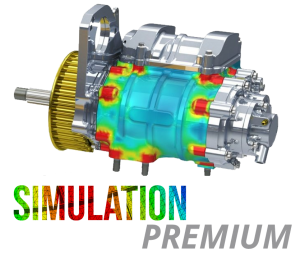 SOLIDWORKS Simulation Premium allows users to perform high-level non-linear simulations for exotic materials, complex load cases, and large deformation problems. Simulate advanced vibration for harmonic, random vibration, and shock loading.
nonlinear materials
buckling analysis
load case manager
static analysis
nonlinear beyond yield
drop test analysis
motion event-based
motion time-based
composite analysis
thermal analysis
topology optimization
fatigue analysis
dynamic analysis
parametric optimization
frequency analysis
nonlinear materials
buckling analysis
load case manager
static analysis
nonlinear beyond yield
drop test analysis
motion event-based
motion time-based
composite analysis
thermal analysis
topology optimization
fatigue analysis
dynamic analysis
parametric optimization
frequency analysis
nonlinear materials
buckling analysis
load case manager
static analysis
nonlinear beyond yield
drop test analysis
motion event-based
motion time-based
composite analysis
thermal analysis
topology optimization
fatigue analysis
dynamic analysis
parametric optimization
frequency analysis