Importing Motion Loads from SOLIDWORKS Motion
In this blog post, we'll show you how to import motion loads to static analysis in SOLIDWORKS Simulation. This can be useful if you want to analyze the effect of dynamic loads on your design.
What are import motion loads in SOLIDWORKS?
To properly design a mechanical component, engineers must understand the loads applied to the parts during operation. Importing motion loads into SOLIDWORKS is a way to simulate the loads applied to the product and ensure the components produced withstand those loads.
SOLIDWORKS Simulation reads motion loads directly from the SOLIDWORKS Motion database. You can import loads at a single frame or multiple frames
Here let me show how it can be done.
After completing the Motion Analysis in Solidworks Motion.
Steps to import motion loads from the SOLIDWORKS Motion database:
Click Simulation> Import Motion Loads.
Select assembly component(s). Note (we cannot import to Simulation motion loads from components in a subassembly)
Select Single Frame Study or Multiple Frame Study (Design Scenarios).
Click OK
The program creates a study with the name CM-ALT-Frame - <Number>in each selected component as shown below.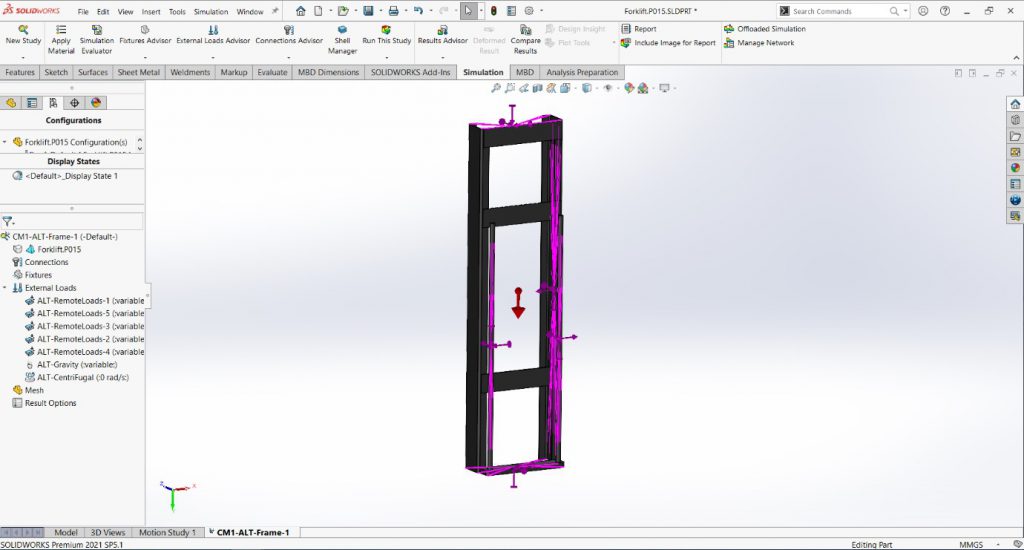 The Motion Loads Will be Imported by Default as Shown Below.
7. Right-click the static study associated with the frame and select Run
The Study will Generates Mesh and the study will solve it Automatically.
The below video shows a quick glimpse of the above-discussed steps.
Conclusion
In order to conclude, there are a few different ways to import a motion load into a static analysis in SOLIDWORKS Simulation. The most common method is to use the Motion Studies tool. Contact us immediately for technical support.